Macro Update
Fixed income and equity markets sold off substantially in August, punctuated by a hawkish Chairman Powell at the Fed's annual economic policy symposium. At the month's outset, a stronger than hoped for jobs report sent Treasury yields higher behind the possibility of another 75 bps hike at the September meeting (rather than 50). Just a few days later, however, hope arose for the emergence of a bullish reversal. It arrived in the form of a monthly CPI print (8.5%) that was finally below expectation (8.7%). While the details of the data were mixed (energy lower, food higher), this was the sigh of relief markets had waited for. Stocks took off and rallied. However, Treasuries did not move much, to the surprise of some.
Yields instead remained in wait-and-see mode for Powell's address. While the 50 vs. 75 question for September certainly lingered, larger and more sobering concerns floated about: What if the Fed isn't truly close to neutral and must get to 5%? Just how much pain will be required to restore inflation to 2%? Is a 2% inflation goal reasonable by 2024, or could it take longer?
When Powell finally spoke, he stated that holding rates higher for longer will be a necessity to tame inflation, even if it means a hard landing for the economy. "Reducing inflation is likely to require a sustained period of below-trend growth," in the words of the Fed Chair. Many had felt that the Fed stood ready to pivot when things became difficult (traders had priced in cuts in early 2023) but the picture changed in Jackson Hole. The soft-landing goal was pushed aside as the market braced for sustained higher rates, the ongoing removal of liquidity through balance sheet action, and potential recession. In consequence, the 2Y UST reached its highest yield level since 2007.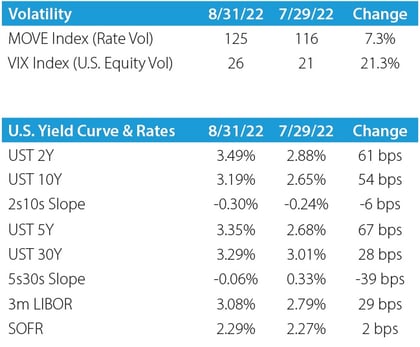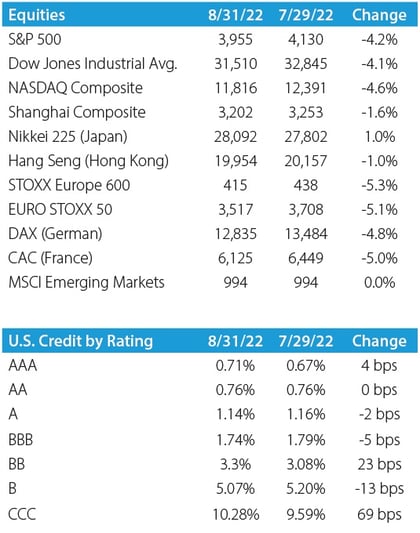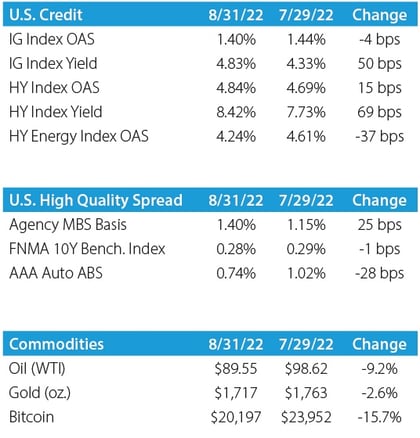 Learn more about the Yorktown Short Term Bond Fund:
---
Definition of Terms
Basis Points (bps) - refers to a common unit of measure for interest rates and other percentages in finance. One basis point is equal to 1/100th of 1%, or 0.01%, or 0.0001, and is used to denote the percentage change in a financial instrument.
Curvature - A yield curve is a line that plots yields (interest rates) of bonds having equal credit quality but differing maturity dates. The slope of the yield curve gives an idea of future interest rate changes and economic activity.
Mortgage-Backed Security (MBS) - A mortgage-backed security is an investment similar to a bond that is made up of a bundle of home loans bought from the banks that issued them.
Collateralized Loan Obligation (CLO) - A collateralized loan obligation is a single security backed by a pool of debt.
Commercial Real Estate Loan (CRE) - A mortgage secured by a lien on commercial property as opposed to residential property.
CRE CLO - The underlying assets of a CRE CLO are short-term floating rate loans collateralized by transitional properties.
Asset-Backed Security (ABS) - An asset-backed security is an investment security—a bond or note—which is collateralized by a pool of assets, such as loans, leases, credit card debt, royalties, or receivables.
Option-Adjusted Spread (OAS) - The measurement of the spread of a fixed-income security rate and the risk-free rate of return, which is then adjusted to take into account an embedded option.
Enhanced Equipment Trust Certificate (EETC) - One form of equipment trust certificate that is issued and managed through special purpose vehicles known as pass-through trusts. These special purpose vehicles (SPEs) allow borrowers to aggregate multiple equipment purchases into one debt security
Real Estate Investment Trust (REIT) - A company that owns, operates, or finances income-generating real estate. Modeled after mutual funds, REITs pool the capital of numerous investors.
London InterBank Offered Rate (LIBOR) - a benchmark interest rate at which major global banks lend to one another in the international interbank market for short-term loans.
Secured Overnight Financing Rate (SOFR) - a benchmark interest rate for dollar-denominated derivatives and loans that is replacing the London interbank offered rate (LIBOR).
Delta - the ratio that compares the change in the price of an asset, usually marketable securities, to the corresponding change in the price of its derivative.
Commercial Mortgage-Backed Security (CMBS) - fixed-income investment products that are backed by mortgages on commercial properties rather than residential real estate.
Floating-Rate Note (FRN) - a bond with a variable interest rate that allows investors to benefit from rising interest rates.
Consumer Price Index (CPI) - a measure that examines the weighted average of prices of a basket of consumer goods and services, such as transportation, food, and medical care. It is calculated by taking price changes for each item in the predetermined basket of goods and averaging them.
Net Asset Value (NAV) - represents the net value of an entity and is calculated as the total value of the entity's assets minus the total value of its liabilities.
S&P 500 - The Standard and Poor's 500, or simply the S&P 500, is a stock market index tracking the stock performance of 500 large companies listed on exchanges in the United States.
German DAX - The DAX—also known as the Deutscher Aktien Index or the GER40—is a stock index that represents 40 of the largest and most liquid German companies that trade on the Frankfurt Exchange. The prices used to calculate the DAX Index come through Xetra, an electronic trading system.
NASDAQ - The Nasdaq Stock Market (National Association of Securities Dealers Automated Quotations Stock Market) is an American stock exchange based in New York City. It is ranked second on the list of stock exchanges by market capitalization of shares traded, behind the New York Stock Exchange.
MSCI EM Index - The MSCI Emerging Markets Index captures large and mid cap representation across 24 Emerging Markets (EM) countries. With 1,382 constituents, the index covers approximately 85% of the free float-adjusted market capitalization in each country.
Nikkei - The Nikkei is short for Japan's Nikkei 225 Stock Average, the leading and most-respected index of Japanese stocks. It is a price-weighted index composed of Japan's top 225 blue-chip companies traded on the Tokyo Stock Exchange.
Shanghai Composite - is a stock market index of all stocks (A shares and B shares) that are traded at the Shanghai Stock Exchange.
MOVE Index - The ICE BofA MOVE Index (MOVE) measures Treasury rate volatility through options pricing.
VIX Index - The Cboe Volatility Index (VIX) is a real-time index that represents the market's expectations for the relative strength of near-term price changes of the S&P 500 Index (SPX).
Dow Jones Industrial Average - The Dow Jones Industrial Average is a price-weighted average of 30 blue-chip stocks that are generally the leaders in their industry.
Hang Seng - The Hang Seng Index is a free-float capitalization-weighted index of a selection of companies from the Stock Exchange of Hong Kong.
STOXX Europe 600 - The STOXX Europe 600, also called STOXX 600, SXXP, is a stock index of European stocks designed by STOXX Ltd. This index has a fixed number of 600 components representing large, mid and small capitalization companies among 17 European countries, covering approximately 90% of the free-float market capitalization of the European stock market (not limited to the Eurozone).
Euro STOXX 50 - The EURO STOXX 50 Index is a market capitalization weighted stock index of 50 large, blue-chip European companies operating within eurozone nations.
CAC (France) - is a benchmark French stock market index. The index represents a capitalization-weighted measure of the 40 most significant stocks among the 100 largest market caps on the Euronext Paris (formerly the Paris Bourse).
Duration Risk - the name economists give to the risk associated with the sensitivity of a bond's price to a one percent change in interest rates.
Federal Open Market Committee (FOMC) - the branch of the Federal Reserve System (FRS) that determines the direction of monetary policy specifically by directing open market operations (OMO).
United States Treasury (UST) - the national treasury of the federal government of the United States where it serves as an executive department. The Treasury manages all of the money coming into the government and paid out by it.
High Yield (HY) - high-yield bonds (also called junk bonds) are bonds that pay higher interest rates because they have lower credit ratings than investment-grade bonds. High-yield bonds are more likely to default, so they must pay a higher yield than investment-grade bonds to compensate investors.
Investment Grade (IG) - an investment grade is a rating that signifies that a municipal or corporate bond presents a relatively low risk of default.
Exchange Traded Fund (ETF) - an exchange traded fund (ETF) is a type of security that tracks an index, sector, commodity, or other asset, but which can be purchased or sold on a stock exchange the same as a regular stock.
Federal Family Education Loan Program (FFELP) - a program that worked with private lenders to provide education loans guaranteed by the federal government.
Business Development Program (BDC) - an organization that invests in small- and medium-sized companies as well as distressed companies.
---
Disclosures
You should carefully consider the investment objectives, potential risks, management fees, charges and expenses of the fund before investing. The fund's prospectus contains this and other information about the fund and should be read carefully before investing. You may obtain a current copy of the fund's prospectus by calling 800-544-6060.
Per the most current prospectus, (1) Fund total operating expense ratios are: Class A, 0.87%; Class L, 1.52%; Institutional Class, 0.87% until at least May 31, 2023. (2) In addition, the Adviser has entered into contractual expense limitation agreement with the Trust so that the Fund's ratio of total annual operating expenses are limited to 0.84% for Class A shares and Institutional Class shares and 1.49% for Class L Shares until at least May 31, 2023.
Fixed income investments are affected by a number of risks, including fluctuation in interest rates, credit risk, and prepayment risk. In general, as prevailing interest rates rise, fixed income securities prices will fall.
Past performance is no guarantee of future results. The investment return and principal value of an investment will fluctuate so that an investor's shares, when redeemed, may be worth more or less than their original cost. There is no guarantee that this, or any, investing strategy will succeed.
Diversification does not ensure a profit or guarantee against loss.
There is no affiliation between Ultimus Fund Distributors, LLC and the other firms referenced in this material.
15622192-UFD-9/13/2022