"Home is the place where, when you have to go there, they have to take you in."

- Robert Frost
Fireworks have come and gone. My town is emptying and the temperature is rising in some parts of the country, so much that it looks like a great time to be outside if you're a baked potato. It is definitely summer. Although, here in the northeast, we have had somewhat mild weather for the summer. Not too humid; in fact, pretty enjoyable. Aaaaand I just jinxed it. Doesn't matter. Most of my day is sadly spent inside. With remote working all the rage, many people are in a similar predicament. We have turned our homes not just into a place to relax, but a place to not relax at the very least. The future is here, and apparently, it means never leaving these four walls. Not sure this is advancing as a society, but we have reached the point where the home plays more and more a role in our lives; in more ways than one for sure.
Housing overall is an essential component of the general health of the economy; it can be a political hot-button. During the past 40 years, there have been various drives to push home ownership. Because of that, perhaps at times, some actions taken to increase ownership have resulted in positive impacts on the economy and others have proven to be detrimental. There is also the psychological impact of owning a house, which ceases to be an investment and more solely a home. From an investment standpoint, it represents the most significant investment most people will make in their lifetime. And to the overall domestic economy, it is very important. It has represented over the past few years anywhere from 16% to 18% of GDP. Therefore, its health is essential to maintain. When it goes wrong, it can be devastating; it wasn't that long ago when it was the culprit for our most recent economic meltdown, the Great Financial Crisis. Safe to say that if housing sneezes, the economy catches a cold.
Overall rates have been a focal point over the past year and a half. Everyone has been focused on the Fed, Fed speak, and market expectations. And with the Fed aggressively hiking rates, that cannot help but impact mortgage rates. It is interesting to hear today's younger generation complain about mortgage rates. I am old enough to remember the days of 18% mortgage rates for a 30-year fixed. And I know that when I first bought a house, my initial rate on a 30-year fixed was 6.875%. We were thrilled to be below 7% back then. Now 7% seems exceptionally high, a by-product of the last decade-plus of living in a low-rate environment. As illustrated in the chart below, mortgage rates for 30-year fixed products continue to rise, and by the end of July, it was reported by Bankrate.com to be at 7.26%.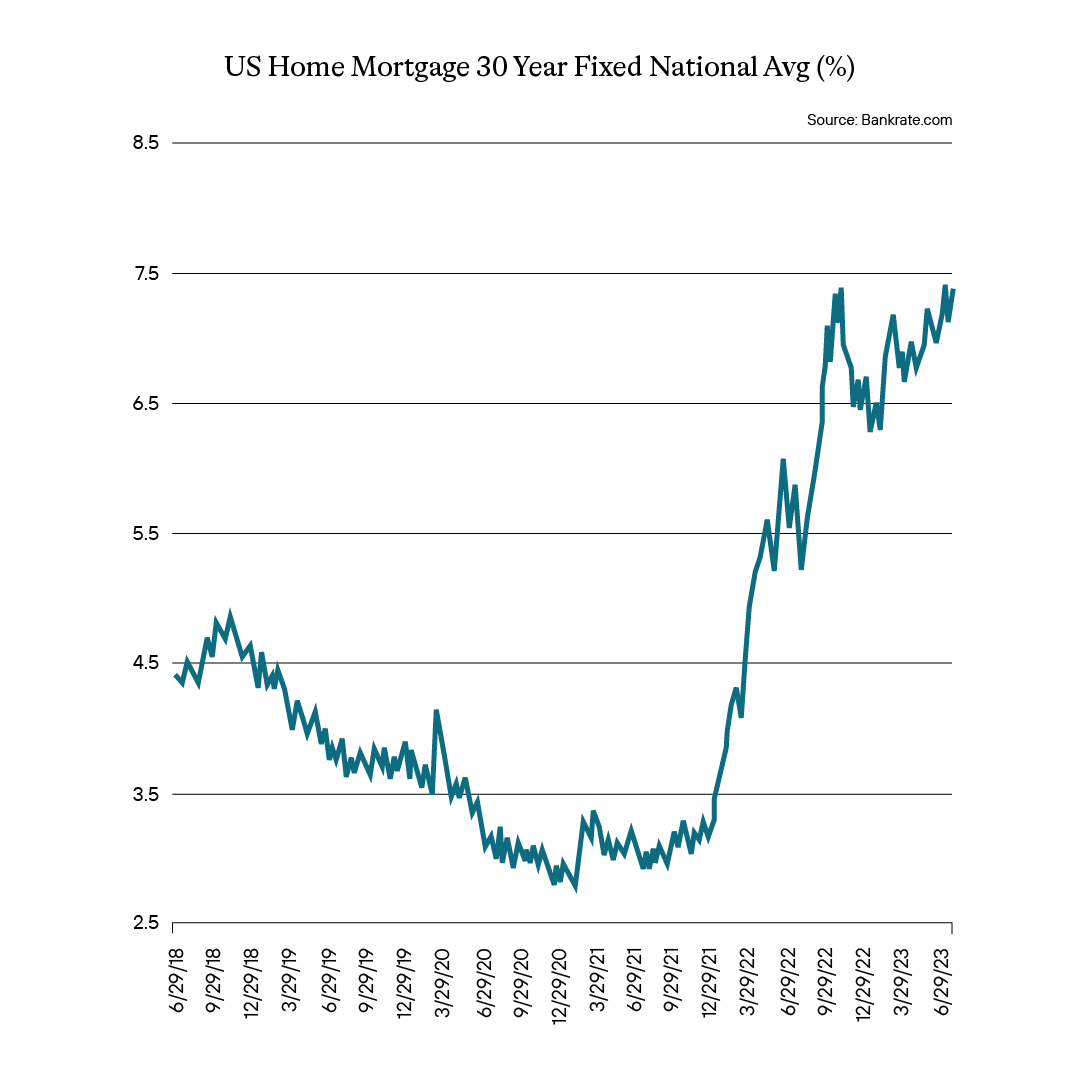 Higher mortgage rates affect the housing market in several ways. For instance, the number of transactions alone becomes muted. People with locked-in low mortgage rates on their current homes are reluctant to sell for fear that they will lose their current low rate and be forced into a higher rate on their next home. Affordability is most definitely affected and can serve quite clearly as a deterrent in cases such. As reported by the National Association of Realtors (NAR), illustrated below, the inventory of houses available for sale is near 5-year lows. The result of this examination: regulators are planning on more money market reform. Below are the current rules being considered and the proposed reforms to those rules.
The result of this examination: regulators are planning on more money market reform. Below are the current rules being considered and the proposed reforms to those rules.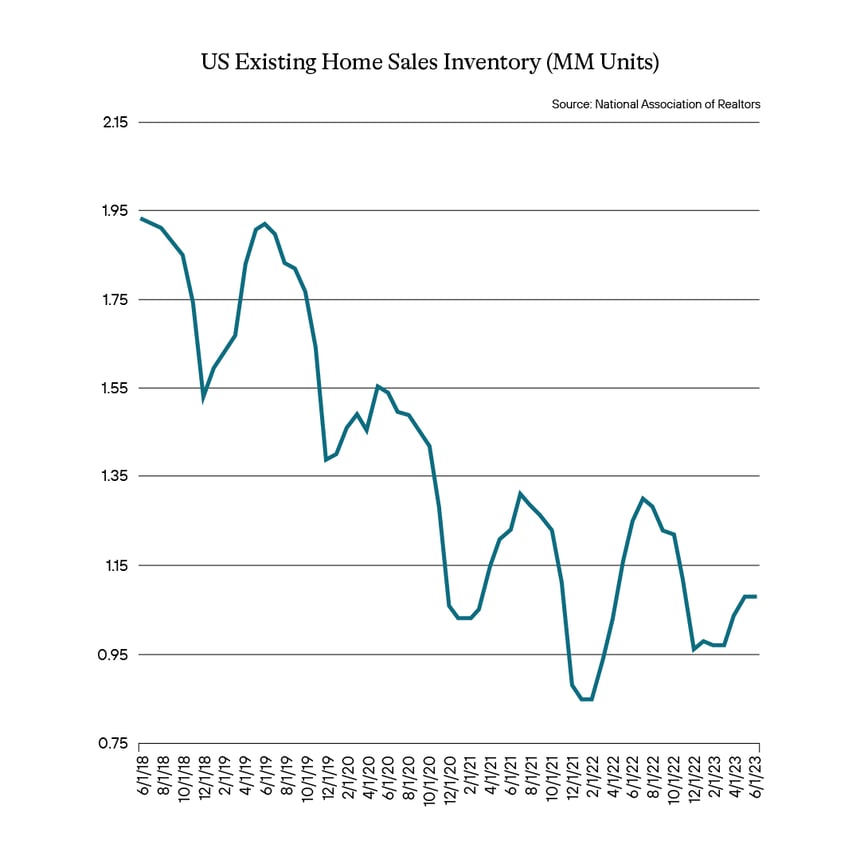 And not by accident, especially given the lower inventory available, existing home sales have predictably fallen as well to near 5-year lows.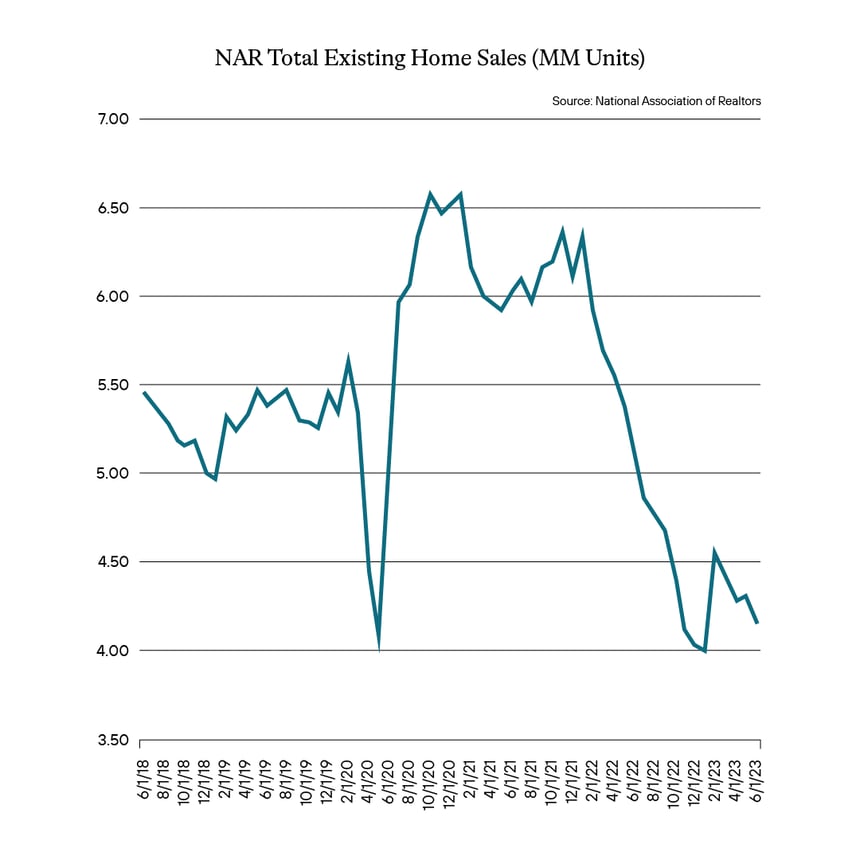 This type of response results in several ripples. It can contribute to inflationary pressure on shelter, as those feeling the pressure from the higher rates have chosen instead to step back and rent, but that has caused a surge in rent costs across the nation, especially in large metropolitan areas like New York City. At the same time, with low inventory available, those who are brave enough to enter the real estate market are confronting enough demand that they must pay up for the few houses available. This has caused home prices to continue to climb, contributing to inflation there as well.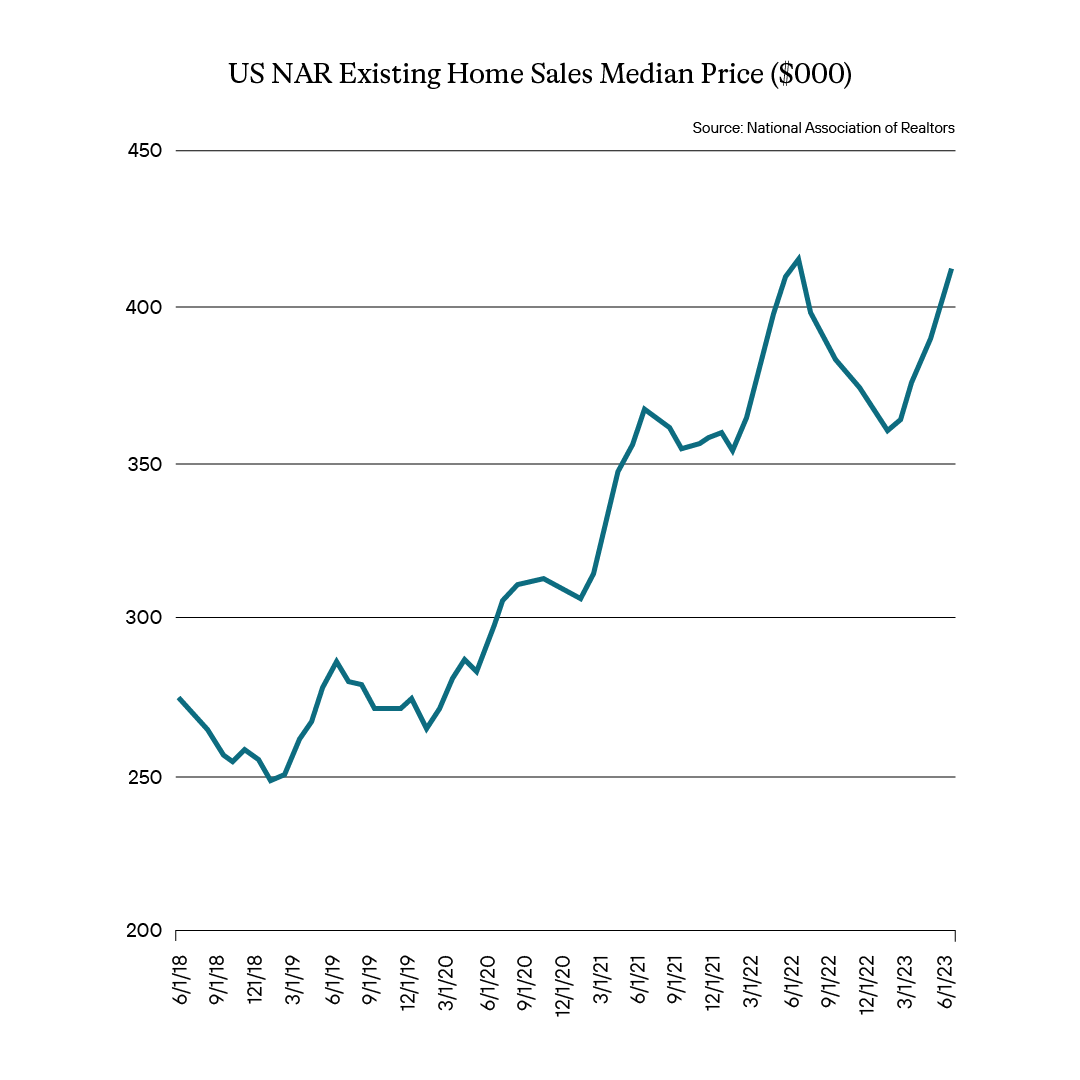 That's not great news for the consumer to begin with, but it also comes on the heels of the household already stretching quite a bit. As we explored previously, thus far, surprisingly the consumer hasn't slowed down all that much in terms of spending. However, to do so, they have reportedly tapped their 401k and increased their borrowing. That is starting to get noticed by the marketplace, with news headlines becoming more common about how stretched the consumer is. As can be seen below, as reported by the Federal Reserve, household debt is now over $17 trillion, and at a 20-year high. And with mortgage debt comprising some 70% of that household debt, current mortgage rates are putting increased pressure on those households.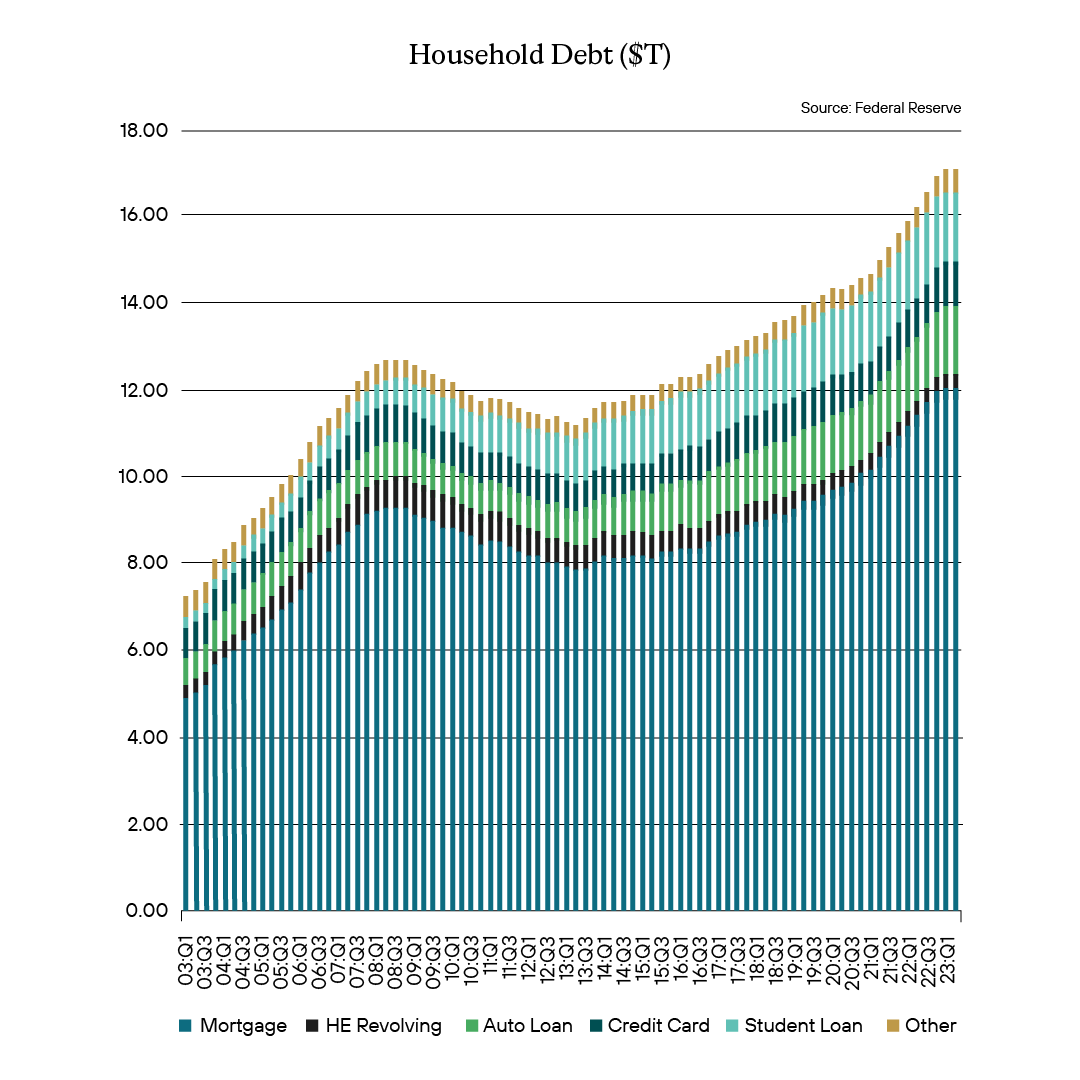 That in turn is getting banks nervous. According to the Federal Reserve Senior Loan Officer Opinion Survey on Bank Lending Practices, current lending standards have already gotten tighter. And a quick look into the future tells us that it will most likely get even more restrictive.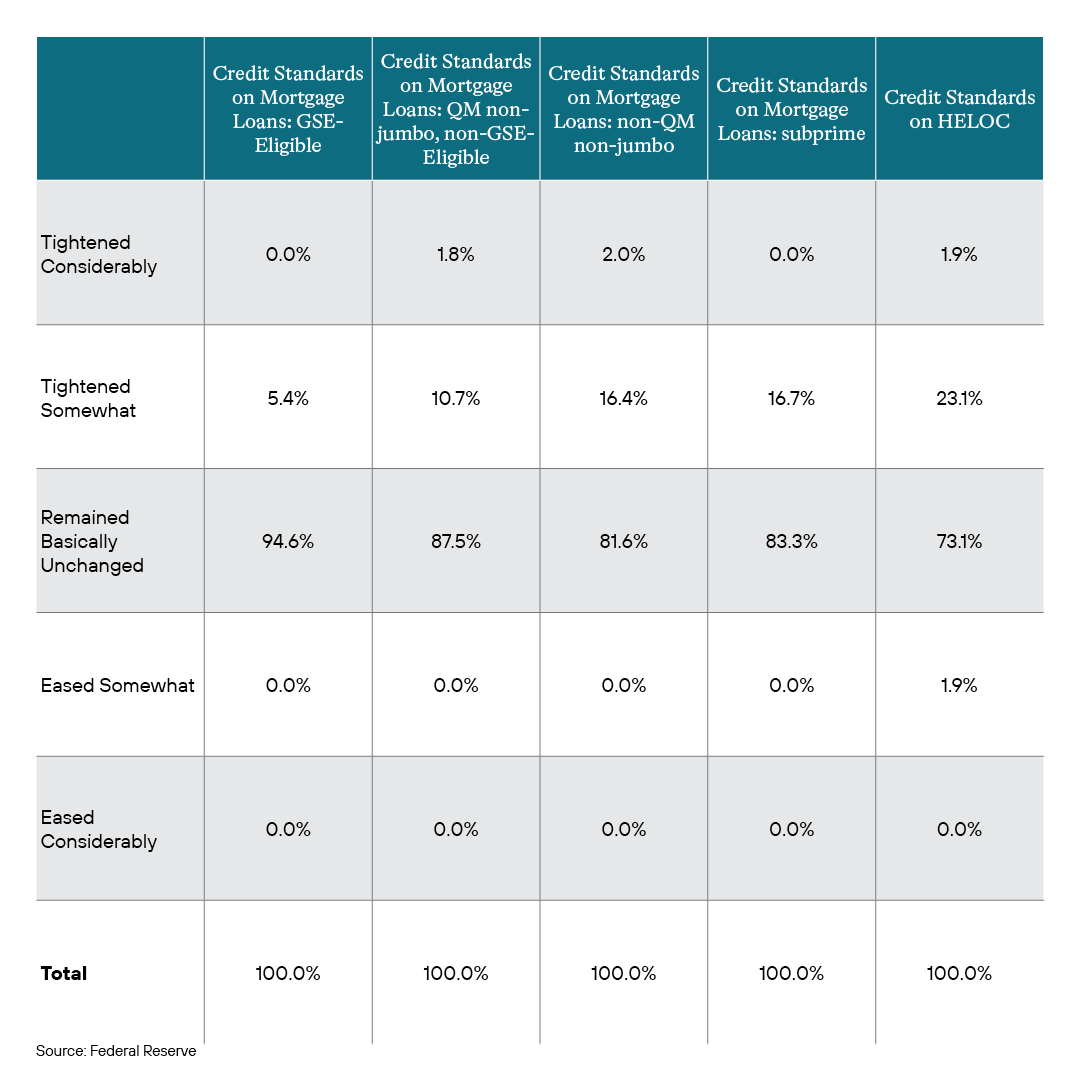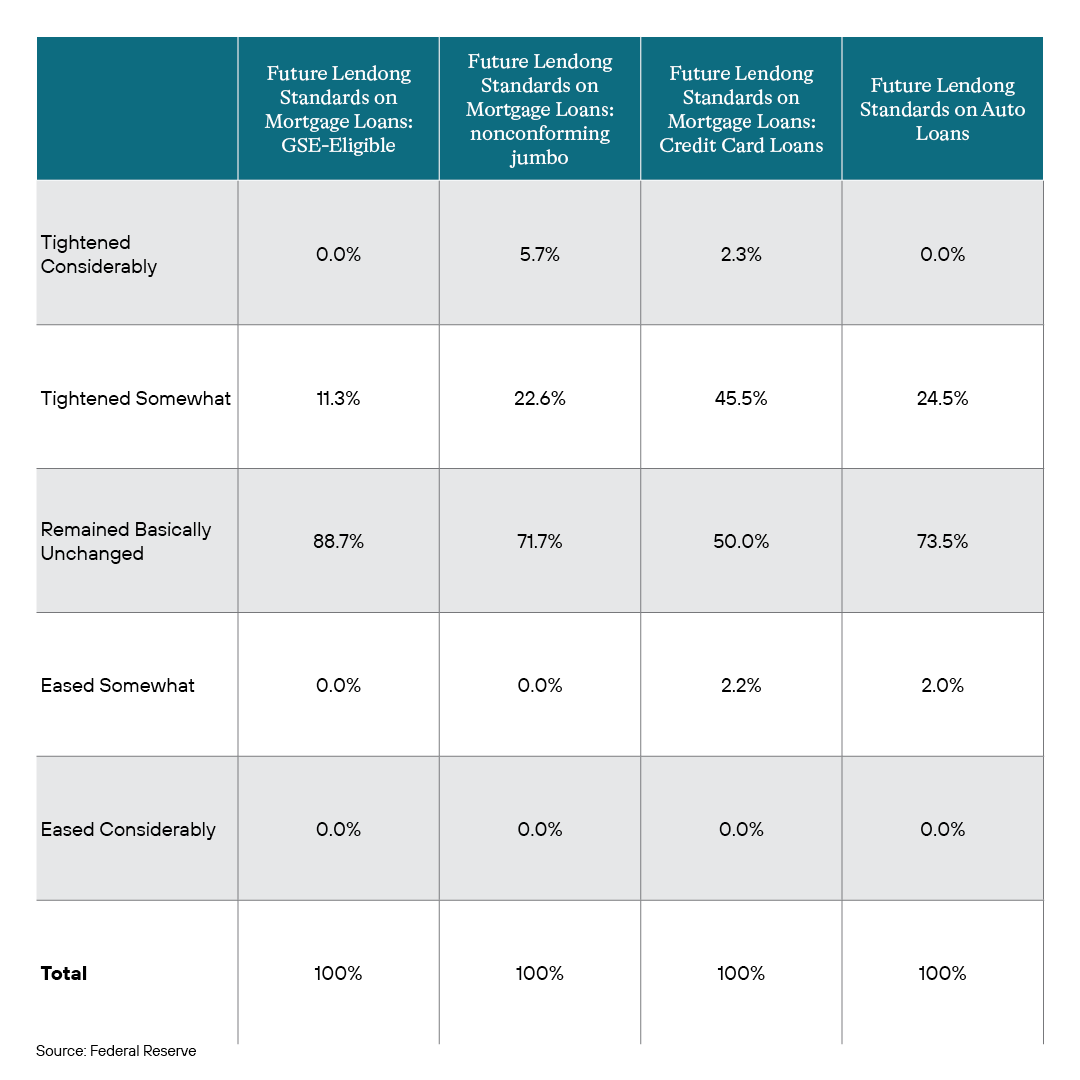 So, we start to contemplate where this is leading us and where it may end. Where do the ripples from the overall state of the housing market take us in terms of the impact on the general economy, and which sectors deserve deeper inspection? The added cost to the borrower is stifling the ability of the housing market to contribute further to the economy. And it is obviously essential, as mentioned above, to GDP. And that means more and more ripples. An already strapped consumer is now facing the daunting reality that the cost of credit is becoming overwhelming and the strain of carrying that debt burden perhaps untenable. And with banks becoming more restrictive with credit, their future ability to borrow or tap lines of credit is diminishing, leaving fewer and fewer options for those borrowers.

How stressed those consumers are ultimately represents a ripple that affects the overall credit environment. Banks have already started prudently increasing reserves in anticipation of worsening defaults and bankruptcies. And while no one is envisioning a housing meltdown like we witnessed in 2008, there is pain already being planned for. Banks are already under pressure from the fallout of commercial real estate, and now they will be forced to deal with a step back in the housing market. So, attention to how the banking sector prepares and deals with what is coming will obviously be critical to how they perform.

There is also ultimately the impact on the overall health of the economy to consider. With housing being such a vital part of the economy's health, the above data leads one to believe that a slowdown at the very least seems likely. With consumers stepping back and a slowing economy, one must remain vigilant in analyzing how it will affect the performance of segments of the corporate world as well as expected performance across specific asset-backed sectors. At the very least, we must consider that any slowdown caused by housing will ultimately cause credit spreads to widen across the credit stack.

The expectation of a future slowdown and its impact on rates and credit has been incorporated into our current near-term investment thesis. As such, it helps shape and hones the sectors we are focused on, and those issuers we target for investment as well as overall portfolio duration targets. Being prepared for future movements such as the above will help mitigate potential underperformance in some sectors and provide opportunities to pick up overperformance in others.
---
Definition of Terms

Basis Points (bps) - refers to a common unit of measure for interest rates and other percentages in finance. One basis point is equal to 1/100th of 1%, or 0.01%, or 0.0001, and is used to denote the percentage change in a financial instrument.

Curvature - A yield curve is a line that plots yields (interest rates) of bonds having equal credit quality but differing maturity dates. The slope of the yield curve gives an idea of future interest rate changes and economic activity.

Mortgage-Backed Security (MBS) - A mortgage-backed security is an investment similar to a bond that is made up of a bundle of home loans bought from the banks that issued them.

Collateralized Loan Obligation (CLO) - A collateralized loan obligation is a single security backed by a pool of debt.

Commercial Real Estate Loan (CRE) - A mortgage secured by a lien on commercial property as opposed to residential property.

CRE CLO - The underlying assets of a CRE CLO are short-term floating rate loans collateralized by transitional properties.

Asset-Backed Security (ABS) - An asset-backed security is an investment security—a bond or note—which is collateralized by a pool of assets, such as loans, leases, credit card debt, royalties, or receivables.

Option-Adjusted Spread (OAS) - The measurement of the spread of a fixed-income security rate and the risk-free rate of return, which is then adjusted to take into account an embedded option.

Enhanced Equipment Trust Certificate (EETC) - One form of equipment trust certificate that is issued and managed through special purpose vehicles known as pass-through trusts. These special purpose vehicles (SPEs) allow borrowers to aggregate multiple equipment purchases into one debt security

Real Estate Investment Trust (REIT) - A company that owns, operates, or finances income-generating real estate. Modeled after mutual funds, REITs pool the capital of numerous investors.

London InterBank Offered Rate (LIBOR) - a benchmark interest rate at which major global banks lend to one another in the international interbank market for short-term loans.

Secured Overnight Financing Rate (SOFR) - a benchmark interest rate for dollar-denominated derivatives and loans that is replacing the London interbank offered rate (LIBOR).

Delta - the ratio that compares the change in the price of an asset, usually marketable securities, to the corresponding change in the price of its derivative.

Commercial Mortgage-Backed Security (CMBS) - fixed-income investment products that are backed by mortgages on commercial properties rather than residential real estate.

Floating-Rate Note (FRN) - a bond with a variable interest rate that allows investors to benefit from rising interest rates.

Consumer Price Index (CPI) - a measure that examines the weighted average of prices of a basket of consumer goods and services, such as transportation, food, and medical care. It is calculated by taking price changes for each item in the predetermined basket of goods and averaging them.

Gross Domestic Product (GDP) - one of the most widely used measures of an economy's output or production. It is defined as the total value of goods and services produced within a country's borders in a specific time period—monthly, quarterly, or annually.

Perp - A perpetual bond, also known as a "consol bond" or "perp," is a fixed income security with no maturity date.

Nonfarm payrolls (NFPs) - the measure of the number of workers in the United States excluding farm workers and workers in a handful of other job classifications. This is measured by the federal Bureau of Labor Statistics (BLS), which surveys private and government entities throughout the U.S. about their payrolls.

Net Asset Value (NAV) - represents the net value of an entity and is calculated as the total value of the entity's assets minus the total value of its liabilities.

S&P 500 - The Standard and Poor's 500, or simply the S&P 500, is a stock market index tracking the stock performance of 500 large companies listed on exchanges in the United States.

German DAX - The DAX—also known as the Deutscher Aktien Index or the GER40—is a stock index that represents 40 of the largest and most liquid German companies that trade on the Frankfurt Exchange. The prices used to calculate the DAX Index come through Xetra, an electronic trading system.

NASDAQ - The Nasdaq Stock Market (National Association of Securities Dealers Automated Quotations Stock Market) is an American stock exchange based in New York City. It is ranked second on the list of stock exchanges by market capitalization of shares traded, behind the New York Stock Exchange.

MSCI EM Index - The MSCI Emerging Markets Index captures large and mid cap representation across 24 Emerging Markets (EM) countries. With 1,382 constituents, the index covers approximately 85% of the free float-adjusted market capitalization in each country.

Nikkei - The Nikkei is short for Japan's Nikkei 225 Stock Average, the leading and most-respected index of Japanese stocks. It is a price-weighted index composed of Japan's top 225 blue-chip companies traded on the Tokyo Stock Exchange.

Shanghai Composite - is a stock market index of all stocks (A shares and B shares) that are traded at the Shanghai Stock Exchange.

Bloomberg U.S. Agg - The Bloomberg Aggregate Bond Index or "the Agg" is a broad-based fixed-income index used by bond traders and the managers of mutual funds and exchange-traded funds (ETFs) as a benchmark to measure their relative performance.

MOVE Index - The ICE BofA MOVE Index (MOVE) measures Treasury rate volatility through options pricing.

VIX Index - The Cboe Volatility Index (VIX) is a real-time index that represents the market's expectations for the relative strength of near-term price changes of the S&P 500 Index (SPX).

Dow Jones Industrial Average - The Dow Jones Industrial Average is a price-weighted average of 30 blue-chip stocks that are generally the leaders in their industry.

Hang Seng - The Hang Seng Index is a free-float capitalization-weighted index of a selection of companies from the Stock Exchange of Hong Kong.

STOXX Europe 600 - The STOXX Europe 600, also called STOXX 600, SXXP, is a stock index of European stocks designed by STOXX Ltd. This index has a fixed number of 600 components representing large, mid and small capitalization companies among 17 European countries, covering approximately 90% of the free-float market capitalization of the European stock market (not limited to the Eurozone).

Euro STOXX 50 - The EURO STOXX 50 Index is a market capitalization weighted stock index of 50 large, blue-chip European companies operating within eurozone nations.

CAC (France) - is a benchmark French stock market index. The index represents a capitalization-weighted measure of the 40 most significant stocks among the 100 largest market caps on the Euronext Paris (formerly the Paris Bourse).

Duration Risk - the name economists give to the risk associated with the sensitivity of a bond's price to a one percent change in interest rates.

Federal Open Market Committee (FOMC) - the branch of the Federal Reserve System (FRS) that determines the direction of monetary policy specifically by directing open market operations (OMO).

United States Treasury (UST) - the national treasury of the federal government of the United States where it serves as an executive department. The Treasury manages all of the money coming into the government and paid out by it.

High Yield (HY) - high-yield bonds (also called junk bonds) are bonds that pay higher interest rates because they have lower credit ratings than investment-grade bonds. High-yield bonds are more likely to default, so they must pay a higher yield than investment-grade bonds to compensate investors.

Investment Grade (IG) - an investment grade is a rating that signifies that a municipal or corporate bond presents a relatively low risk of default.

Exchange Traded Fund (ETF) - an exchange traded fund (ETF) is a type of security that tracks an index, sector, commodity, or other asset, but which can be purchased or sold on a stock exchange the same as a regular stock.

Federal Family Education Loan Program (FFELP) - a program that worked with private lenders to provide education loans guaranteed by the federal government.

Business Development Program (BDC) - an organization that invests in small- and medium-sized companies as well as distressed companies.

Job Opening and Labor Turnover Survey (JOLTS) Report - is a monthly report by the Bureau of Labor Statistics (BLS) of the U.S. Department of Labor counting job vacancies and separations, including the number of workers voluntarily quitting employment.

Sifma - The Securities Industry and Financial Markets Association (SIFMA) is a not-for-profit trade association that represents securities brokerage firms, investment banking institutions, and other investment firms.

Duration - A calculation of the average life of a bond (or portfolio of bonds) that is a useful measure of the bond's price sensitivity to interest rate changes. The higher the duration number, the greater the risk and reward potential of the bond.

Home Equity Line of Credit (HELOC) - A home equity line of credit (HELOC) is a line of credit that uses the equity you have in your home as collateral.

Government-Sponsored Enterprise (GSE) - A government-sponsored enterprise (GSE) is a quasi-governmental entity established to enhance the flow of credit to specific sectors of the U.S. economy. Created by acts of Congress, these agencies—although they are privately held—provide public financial services.

Qualified Mortgage (QM) - A qualified mortgage is a mortgage that meets certain requirements for lender protection and secondary market trading under the Dodd-Frank Wall Street Reform and Consumer Protection Act, a significant piece of financial reform legislation passed in 2010.

Trust Preferred Securities (TruPS) - hybrid securities issued by large banks and bank holding companies (BHCs) included in regulatory tier 1 capital and whose dividend payments were tax deductible for the issuer.
---
Control #: 17271303-UFD-8/16/2023